Nylander RGS
Cunningham X Rendelin (Goodtimes)
Foaled: 2013
Color: Grey
Height: 16.1 hands
Registries: BWP
USDF, USEF (5302031), and USHJA lifetime recording numbers
Nylander RGS "Tinsel" is by Cunnigham, a 17.1 hh Holstein stallion. Cunningham stamps his get with a beautiful head, top line and his easy going, hard working attitude…which is already apparent in Tinsel.
Cunnigham has won over 80 Championships, multiple Year End Awards, Nationally – USEF, USHJA, Silver Stirrup, AHHA, BWP, Zone 10, …and many more! He continues do well in competitions
Coming from Stamm 1907, he is performing to the expectations of the performance and the work ethic.
Nylander RGS "Tinsel" is out of Rendelin – "Tess" who had a great career in the hunters, until she was injured.
Rendelin has inherited the movement and jumping from her sire, GOODTIMES! She has an elastic, extremely comfortable, smooth canter and jump. Tess is always brave to the fences, and always sees the distance. Her trainer, Amanda Wise, said, "She (Tess) was very strong in her mind, which made her brave and confident in herself always. If you wanted to ride her like a jumper, all you had to do was to close your leg and hand and package her and she would go like a jumper, always balanced to turn and jump."
Let the pedigree speak for itself where TINSEL is concerned.
Show Record:
2015
WESTBROOK ANNUAL SPRING FLING HORSE SHOW
Two Year Olds, 1st Place
Two Year Olds, 1st Place
Best Young Horse, 3rd Place
Best Young Horse, 2nd Place
SHALLOWBROOK JUNE
Two Year Olds, 1st Place
Two Year Olds, 1st Place
WESTBROOK SHORELINE I
Two Year Olds, 1st Place
Two Year Olds, 1st Place
Best Young Horse, 1st Place
Best Young Horse, 1st Place
WESTBROOK SHORELINE II
Two Year Olds, 1st Place
Two Year Olds, 1st Place
Best Young Horse, 2nd Place
Best Young Horse, 2nd Place
WESTBROOK SHORELINE III
Two Year Olds, 1st Place
Two Year Olds, 1st Place
Best Young Horse, 1st Place
Best Young Horse, 1st Place
GRAND FALL CLASSIC
Two Year Olds, 1st Place
Two Year Olds, 1st Place
Best Young Horse, 2nd Place
Best Young Horse, 2nd Place
NEDA FALL DRESSAGE FESTIVAL: GREAT AMERICAN INSURANCE GROUP/USDF REGION 8 DRESSAGE CHAMPIONSHIPS
Colts and Geldings – 2 Years, 1st Place 72.475%
2015 DRESSAGE AT DEVON
Two-year-old Colts and Geldings (born 2013) 72.975
Young Horse Show, Tryon NC
1st place in the 2 Year Old In Hand/at Liberty, 1st place score: 8.62
2nd place in the 2 Year Jump Chute, 2nd place score: 8.45
Young Horse Show Series Finals, Tryon NC
2 year Old in the Jump Chute Champion score: 8.62
In Hand final for the 2 Year Old Hunter/Jumpers 2nd Place score: 8.09
* 2015 Zone 1 HUNTER BREEDING 2 YEAR OLD Horse of The Year Award Champion
* USEF HUNTER BREEDING 2 YEAR OLD Nationally ranked 10th place with 61 points
* 2015 American Performance Horse Rankings – 19th with 149 points
2017
SHALLOWBROOK
.70 Meter Jumper 4th Place
2019
OLD SALEM FARM
Low Hunter 6th Place
Low Hunter 1st Place
Low Hunter 2'6 – Championship Reserve Champion
Nylander RGS's Photo Gallery
Nylander RGS's Video Gallery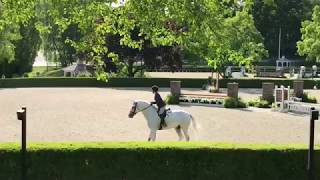 Nylander RGS Old Salem 2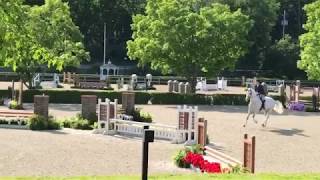 Nylander RGS Old Salem Farm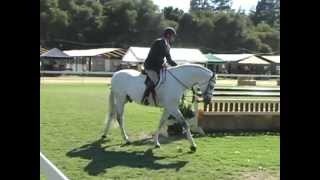 Cunningham - Sire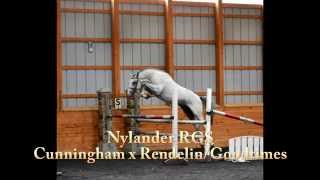 Nylander RGS - BWP Keuring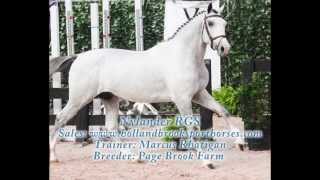 Nylander RGS - Young Horse Show
Nylander RGS Old Salem Farm

Nylander RGS - BWP Keuring

Nylander RGS - Young Horse Show

2015 National Champion