Milano
Foaled: 5/20/2017
Color: Bay Pinto
Height: mature 14.2
Registries: ISR Oldenburg NA Sportpony
USEF# 5508489




Milano is a 2017 ISR Sportpony filly by Pixar out of Cookie. Cookie 14.3h is a Paint Quarter Pony cross. Milano received high scores at her 2017 ISR Oldenburg NA Inspection, and in 2018 was shown in Pony Hunter Breeding.
4/26/2018 WESTBROOK ANNUAL SPRING FLING HORSE SHOW
Pony Yearlings
1st Place
Best Young Pony – Pony Breeding Championship
3rd Place
4/21/2018 PINES OPEN APRIL
Pony Breeding Yearling
1st Place
Best Young Pony
2nd Place
Milano's Photo Gallery
Milano's Video Gallery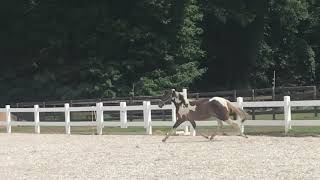 Milano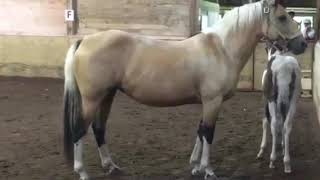 Milano (Pixar x Cookie)
Cavallo's Pick Me
Foaled: 6/10/2018
Color: Chestnut
Height: mature 13.2
Registries: ISR Oldenburg NA Sportpony
USEF# 5553835
USDF# 1134263
Cavallo's Pick Me (Sully) is a 2018 ISR Sportpony colt by Pixar out of Knights Queen of Heaven (Knights Royal Olympian x Evans Daco Nirvana). Knights Queen of Heaven is a 13.2 Welsh Pony. Her pedigree is packed with top Welsh Pony breeding such as Carolinas Red Fox, Llanarth Rhapsody, Cloe Olympian, and Rosmel Cotillion.
Sully received high scores at his 2018 ISR Oldenburg NA Inspection, and was shown at Dressage at Devon in the Pony Colts of current Year and ISR Oldenburg class.
Sully has been handled daily, and is well behaved for tying, bathing, clipping, and leading on the trailer. He is a phenomenal mover, and is an excellent prospect for the future as a top pony hunter or eventing prospect.
Dressage at Devon 2018
Pony Colts/Geldings of Current Year w/wo Dam 2nd Place 76.15%
IBC: ISR-Oldenburg 7th place 74.375%
Cavallo's Pick Me Photo Gallery
Cavallo's Pick Me Video Gallery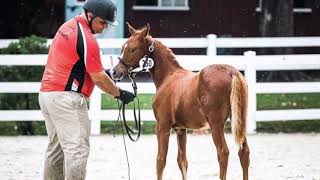 Cavallo's Pick Me (Pixar x Knights Queen of Heaven)
Cavallo's Pick Me (Pixar x Knights Queen of Heaven)